Site News & Updates In 2014
Foil Easterfest On YouTube And Available For Download
April 5th, 2015: Steve Taylor & The Perfect Foil performed a mainstage set at Easterfest in Toowoomba, Australia on Sunday April 4th, and the forward-thinking people who run the festival put the entire weekend on YouTube. A Q&A with Steve, plus the mainstage set, can be seen in the Sunday video at 5:38:48 and 9:16:42, respectively.
In addition, you can download the Q&A and mainstage set from our very own BitTorrent tracker in the highest quality available, 720p HD. Thanks go to Easterfest for being so open with their footage!
New Items In The Gallery And Press Sections
April 3rd, 2015: A few new bits of eye candy are available today.
Courtesy of Chris Elliott comes a second set of photos from the Hollywood Whiskey A Go Go show in October 2014. Going further back in time, there is also a set of photos from the 1984 Flevo Festival in Holland courtesy of then-official photographer Greg Wigler. The interesting thing is that these are both concert and behind-the-scenes photos.
The new press item is "News From The World," a four-page promotional mock-tabloid that advertised the then-forthcoming I Predict 1990 album. It's along the same lines as the Clone Club newsletters of yore.
Foil Rumor Mill; E-Z To Remember Facebook Group; Give Fleming & John All Your Money
March 30th, 2015: First thing's first. Fleming & John, a.k.a. Fleming McWilliams and her husband John Mark Painter of The Perfect Foil, are in the midst of their own Kickstarter campaign to raise fundage for their own new album. Actually, it would be more correct to say they've already raised the fundage, but there's still plenty of backer rewards to be picked up, and with 25 days still left to go, it is possible stretch goals could come.
Finally, the best part: the rumors.
Not so much a rumor, but a reminder: The Goliath "Deluxe Edition" tracks drop tomorrow, and as a Kickstarter backer, well, I'm wondering... (Update: Confirmed! You can preview "Am I In Sync? (Missing Link Version)" right now!)
Foil fans will, quote, "lose their minds" when they hear "Foils On 45". You have, quote, "been warned". (Update: Hear "Foils On 45" now!)
Another music video is coming, which will make 5 for the 11 tracks on Goliath. In addition, a recognizable music personality has expressed interest in creating another.
A summer live EP is being kicked around, but nothing has been recorded and this is only in the idea stage. The reason being is...
The band is already working on a new album, and "if you heard the songs you'd want them to keep working on it" rather than divide their attention.
Another Goliath surprise is coming in April (note: not the live EP and not the new album).
Goliath "Deluxe Edition" Announced; Scoop: New Music Video This Week
March 24th, 2015: The band has announced via their official Facebook page that next Tuesday, March 31st, the Goliath "Deluxe Edition" will be released on iTunes! This version will include three bonus tracks, plus a fourth not-so-secret track. Quoth their post:
Am I In Sync? (Missing Link Version)
Foils on 45
Goliath: A Conversation with Donald Miller & Steve Taylor
(Plus secret hidden track)
In addition, a bigger scoop has been received by this site: Later this week a new music video from Goliath will be released on a "MAJOR entertainment site", and the anonymous source completely unaffiliated with the band was excited to share that "it's our favorite video so far".
New Music This Month; Still Web Sites Run Deep
March 10th, 2015: We've been in a holding pattern for the past two months simply because there hasn't been much to report that couldn't have been gleaned from the Perfect Foil's official Facebook and Twitter, both of which you should be following for the most up-to-date information. Concert dates have been announced in Seattle, Portland, Los Angeles, New York, and Minneapolis--cast your eyes rightward to the sidebar for dates and links.
However, something we can report that isn't being seen elsewhere right now is that not only are there "lots" more tour dates on the way, there will also be new music from the band coming this month! The source on this one is solid.
In other site news, long time Sock Heaven collaborater Elias Coblentz has procured a mountain of materials that he has generously shared and which will be scanned and added to the Press Archive and Gallery. Highlights include the complete Clone, Meltdown, and Chagall Guevara press kits, and many sets of photos and negatives from early concerts going as far back as 1983!
Jimmy Abegg Says Another Foil Album "Likely"
December 27th, 2014: The latest in a series of "ask the artist" videos features Jimmy Abegg (embedded below), who, on the subject of The Perfect Foil doing another album together, says:
I think that is likely. We have plans for not just one record, but multiple records. We're not fooling around.
In other news, there are now concert pictures from NewSound '86 in the gallery, courtesy of an anonymous contributor. There are also two new entries in the discography. The first, Legacy: Out Of The Box, is an anthology of Taylor tracks compiled and released in 2010 that was brought to our attention by Norman Weatherly. The second is "Hero (For JR, With Thanks)", the recently-released new version of Hero re-recorded for a Kickstarter backer with deep pockets. Thanks for letting everyone benefit from your largess, JR!
Even More Photo Gallery Additions
December 12th, 2014: More photo gallery additions today. The first are two more photo sets from Perfect Foil shows: Bill Jacomet has shared Dallas, TX and Liz Baumeister sent us Blakely, PA.
There's also two non-Foil additions this time. The first is a set of photos from the Keyser, WV stop on the Squinternational tour on October 23rd, 1994, thanks to Gary Hough. The second is the Taylor-Walsh Trans-Atlantic Tour book, which was a book of tour locations and itinerary used by the staff on the tour.
The Film Steve Has Been Hiding From You (Unless You've Heard Of YouTube)
December 10th, 2014: Jon Neill writes to point us to Spy vs. Guy, a short film starring one Herr Taylor as a retired Russian spy hunting down dangerous technology that has fallen into unsuspecting hands. Or, as one YouTube commenter puts it, "Steve Freaking Taylor as Wile E. Coyote". Very funny and well done, and well worth spending 15 minutes on. Embed follows.
• • •
Behind The Songs On Goliath
December 5th, 2014: Thanks to Caleb Rackley for pointing us to a NewReleaseTuesday article we missed in which Steve shares the stories behind each and every song on Goliath. Perhaps most interesting is the note about "Comedian":
I started this song twenty years ago and have been working on the lyric ever since -- I doubt a week ever passed when it wasn't rolling around in my head. The form seemed so rich with possibilities, like an intricate puzzle, and I just didn't want to screw it up. When I brought it to the band, it was very sparse, but we turned it into a pretty epic track in the studio, which inspired the more ambitious lyrical dialectic with God. This one was a bit like making a movie: long gestation, multiple false starts, fiercely trying to protect the essential idea, and praying something tolerable comes out the other end. There are so many ways these things can go wrong, so when they go right it feels like a miracle.
"The Adventures of Bannerman" Now In Gallery
December 5th, 2014: New in the gallery section today is "The Adventures of Bannerman", a comic book that was the "limited edition souvenir program" for the Squinternational Tour in 1995.
Update: Additionally, we have four more sets of Perfect Foil concert photos: Columbus, OH thanks to John McCollum, Hollywood, CA thanks to Sonn Eidem, and Atlanta, GA and Nashville, TN (with the Chagall Guevara reunion) thanks to Wheat Williams.
Ye Old Rumor Mill: New Music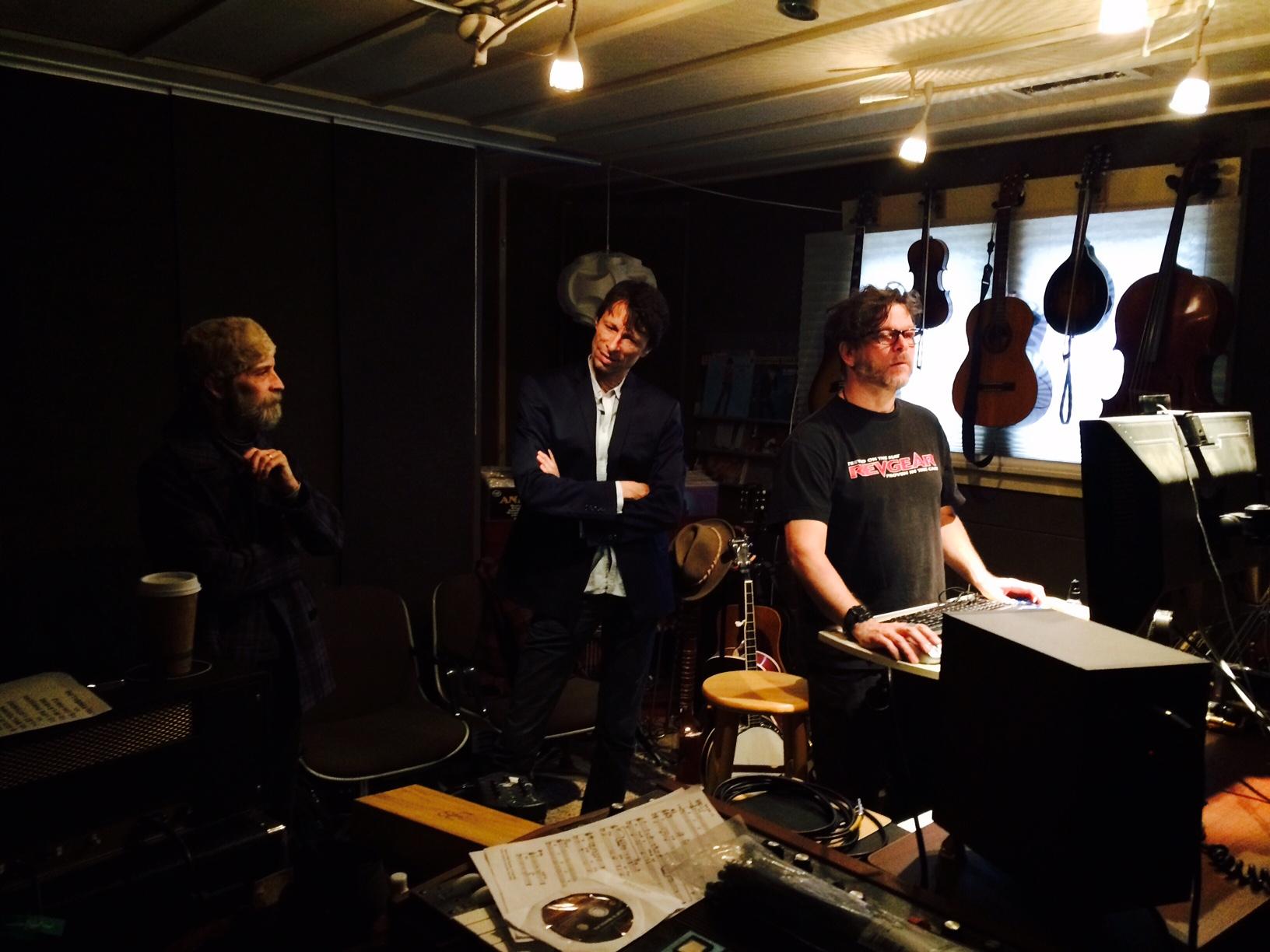 December 4th, 2014: A source close to the band who wishes to remain anonymous has sent word that the esoteric photo Tweeted earlier today on the band's official Twitter is indeed from a post-album-release studio session, and that new music is coming!
"Semi-Complete Steve Taylor" Now In Gallery
December 4th, 2014: The nice thing about having the new gallery section is that I can put up lots of printed material that didn't really fit anywhere else. The first such thing is a book published in 1985, "The Semi-Complete Steve Taylor", a book of sheet music for Clone and Meltdown era songs, plus three pages of tour photos from back in the day.
More Photo Gallery Contributions
December 3rd, 2014: Voluneers are riding to the rescue by sharing their photos from recent Perfect Foil shows. Matt Scott provides photos from the Nashville "Secret Show", Danny Greene shared photos from the Charlotte, NC show, and Chris Strayer of WJTL FM 90.3 gave photos from Manheim, PA.
Brand New Photo Gallery, Please Help!
December 2nd, 2014: Today we unveil a brand new photo gallery that, so far, has shots from various live shows plus some promotional photos. Thanks to Steve McGrew for the photos from the 1984 Meltdown tour, and to Shari Lloyd for the Steve Taylor photo legend.
Update: Thank to the first contributor John DiBiase of JesusFreakHideout.com, who has given permission to use his photos from the Manheim, PA Perfect Foil show!
Maintain This Dumb Web Site Long Enough And An Album Will Appear
November 26th, 2014: Is this real? Is this really really real? Am I really holding a new Steve Taylor album in my trembling hands? Has it really been 20 years since I walked into a Family Bookstore, plunked down fifteen dollars of my hard-earned allowance, and walked out with Squint? Gaggles of other Twits confirm I'm not hallucinating--unless, of course, this is a mass hallucination.
Complete Chagall Guevara Reunion Video
November 23rd, 2014: Thanks to Robert Berman, a video of the complete Chagall Guevara two-song reunion at the Cannery Ballroom in Nashville, minus Wade Jaynes:
Surprise Chagall Guevara (Minus Wade Jaynes) Reunion
November 22nd, 2014: Last night! Cannery Ballroom in Nashville! Chagall Guevara reunited! Minus Wade Jaynes :-( ! Video proof below! Did someone capture the whole thing?
Goliath Release Day At Last
November 18th, 2014: What more needs to be said? Buy it on iTunes or Amazon (download or CD), or from the Music & Curiosities Emporium, i.e., the band's own site. See them this week in Atlanta and Nashville. Read the lyrics on this very web site.
Goliath Released Early To Kickstarter Backers
November 15th, 2014: From the Kickstarter mailing list comes word from Steve that backers can immediately download the entire Goliath album! Yes, really! Right now! The rest of the world has to wait until Tuesday, but in the meantime I can offer the lyrics to the remaining unreleased songs:
Argumentum Ab Auctoritate
November 13th, 2014: Argument from authority is a logical fallacy, but it can also be funny, so here's Fred Armisen.
New Interview With Jimmy Abegg
November 12th, 2014: Gabriel Jones writes in to share an interview with Jimmy Abegg on the Perfect Foil's "Goliath" releasing next week. Quoth the artist:
[I]t'll be interesting because the record will be quite polarizing. There's really not easily definable Christian music on it. It's certainly created by men of faith but, on the other hand, it doesn't take aim on any specific topic and make a yay or a nay for it. I guess it's just a fun combination of words and music played by people that are having so much fun it's embarrassing.
Interestingly, he goes on to say the following. One might compare this next statement with what was frequently said by Chagall Guevara alumni regarding having no agenda.
When I started this band with the boys, one of the first things my wife said "Not another non-profit". [...] But this one is just a really exciting time. We've all kinda been around the block a little bit and I think there's an agenda-less approach.
Fifth Single Release: "Moonshot"
November 11th, 2014: We're late in reporting today's release of the fifth single, "Moonshot", from Steve Taylor & The Perfect Foil's "Goliath". There is also a write-up with a short interview over on Billboard. You'll also find the lyrics in the discography section of this site. Only seven more days to go for the full album...
"Goliath" Video Released, New Concert Dates Added
November 4th, 2014: By way of the album Kickstarter comes news that the video for "Goliath", the title track from Steve Taylor & The Perfect Foil's forthcoming album, has been released. In addition, there will be an in-store appearance at Grimey's in Nashville on November 18th, an Atlanta show on 19th, and an album release concert with Fleming & John back in Nashville on the 21st.
Another Ninja Release Of A New Single Signals Strange New Trend In Album Promotion
November 4th, 2014: We're left scratching our heads over the second silent release of a new single from Steve Taylor & The Perfect Foil's forthcoming album Goliath. This time it's "Double Negative", and as before it's available for mere pocket change.
As always, the lyrics to "Double Negative", as well as the lyrics for the previous single "Goliath", are in the discography for your examination.
Stealthy Ninja-Style Release Of Third Single "Goliath"
November 2nd, 2014: Sock Heaven friend Josh Rude has written in to point out that the third single from Steve Taylor & The Perfect Foil's forthcoming album Goliath has silently been released on iTunes. The album's title track Goliath is available for purchase now at the thoroughly reasonable price of $1.29.
Update: Anonymous sources that are definitely not the band's management certainly have not told us that the "Goliath" video should be out this week, and that it absolutely, positively will not be animated and directed by frequent Taylor collaborator Jonathan Richter. We hope this has not been informative.
Press Archive: Bob Jones And Jimmy Swaggart Quotables
October 28th, 2014: Two new items in the press archive from the 1988 LA Times. The first contains some memorable quotes from Bob Jones III and Jimmy Swaggart:
Evangelist Bob Jones III has called tonight's Universal Amphitheatre headliner [Steve Taylor] a "satanic influence upon the lives of young people." Jimmy Swaggart said his work has "no Jesus, no God, no nothing." His hate mail threatens retribution from "the hand of God."
And the second is much shorter, containing Steve's response to the then-recently-shamed Swaggart:
"You hate to kick a guy when he's down," Taylor responded. "But I thought Swaggart's attacks on Christian rock were very mean-spirited and made some strange leaps of logic and rationality. When I first saw his book at my barber's, I was so distraught that I told (my barber) just to give me a quick trim."
Dave Perkins Talks Chagall Guevara And More
October 27th, 2014: There is a new item in the press archive from Cross Rhythms on August 30th, 2013, in which Dave Perkins talks about his experience in Chagall Guevara, as well as his solo albums and time in Passafist. Excerpt:
Explaining how Chagall Guevara was created, Perkins explained that a certain amount of serendipity was involved. "I was working with Steve on his record 'I Predict 1990'. Steve was at that point in time a little frustrated with the Christian record business in terms of a low ceiling of creativity, of what was allowed. We would talk about that a lot. The thing with me is that I had come from outside, I'd come from the mainstream where I'd worked with a lot of different recording artists as a guitarist. I felt the struggle almost immediately in Christian music, so Steve and I developed this conversation about what else there might be for someone who writes with a theological intentionality, but wants to go further, go wider, than the CCM market would allow. The conversation morphed into the simple idea between Steve and I of, 'Hey, let's start a band!'

"We formalised that thought when I came back to California to help him with three new tracks for a best of record he was doing. Lynn [Arthur Nichols] was a friend of both of ours and someone who we had worked with at record companies. Lynn found himself out of a job right when we were putting the band together; he was just a logical partner. The three of us got together after that and began to write songs together."
New Press Archive Items About Australian "Clinic" Controversy
October 23rd, 2014: A few new items are in the press section today.
First is a Predict era concert review from April 1988, which I'm pretty sure is the first piece of press I've seen that describes Steve as "sexy" and looking "a bit like Farah Fawcett" in a strangely sincere way.
Second and more interestingly are two Predict era items out of Australia about the backlash down under against "I Blew Up The Clinic Real Good" that has been mentioned before. The first is an article from The Sydney Sun-Herald containing the quote, "this must be the work of a sick mind"--and that's the quote from the pro-life spokesperson!
The second item is an article from Against The Grain, an Australian zine, that is in response to the article above, and notes correctly that you should not blew up abortion clinics to sell ice cream.
"Only A Ride" Wizardry Techniques And Source Footage
October 21st, 2014: The payoff for the "Future of the Music Industry" has been pretty well covered in social media in the past week, so we'll forgo more repetition.
Seth Worley, who directed the "Only A Ride" video, has posted some before-and-after shots of the rotoscoping used in the video. The wizard seen in the video is taken from the 1980 film "Stunt Rock", a movie that probably has a plot, but is more easily described as a movie with gratuitous stunts and rock and roll (so it's not just a clever title).
The wizard in question was a member of the band featured in the film, Sorcery. They were know for a live stage show combining rock and magic in a "good versus evil" theme billed as "The King of the Wizards against the Prince of Darkness".
The entire film is on YouTube, though probably not-quite-legally. There is also a shorter version with just the clips of the band, embedded below and starting at my personal favorite, "Sacrifice".
We Don't Know What It Means, Either
October 15th, 2014: In this "I want it done yesterday" world of short attention spans, we can only hope that we remember what we'd wished to know today when we learn what we'd wished we'd known today.
"Standing In Line" Video Released With Interview
October 10th, 2014: As promised, the video for "Standing In Line" has been released! So without further ado...
Accompanying the video is an interview with Steve in which he talks about the meaning behind the lyrics and about the movie from which the video's footage is taken:
Interviewer J. Edward Keyes: So, this song, to me, seems to be about two people whose lives started in the same place, but as time went on, they began taking different paths. What got you thinking along those lines?

Steve: I always reserve the right to mix up autobiographical and non-autobiographical stuff in the same song, and that's probably the case with this one as well. It just started going and grew -- there was that line about "inhaling under the bridge of sighs / it's not the way it was," it seems like any relationship goes through peaks and valleys and I've found that in my relationship with my wife, our commitment to stay together supersedes all of those valleys. That was the basic ideas, that sometimes when those are happening, you feel like you're in a waiting room, but you're determined not to leave.
Surprise "Standing In Line" Single Release
October 9th, 2014: The single for "Standing In Line" has been--what do they kids say, dropped? Yes, dropped, which is a hifalutin way of saying that it's out one day ahead of the video release tomorrow, and it's out for absolutely everybody, not just for Kickstarter backers.
The announcement comes via the band's official Twitter and like the last single for "Only A Ride", the new single can be heard on SoundCloud. Meanwhile, the lyrics are now up on this site, so you can begin dissecting and discussing them on the band's official Facebook.
Goliath Second Single & Video: "Standing In Line"
October 8th, 2014: The big announcement has been, uhm, announced (side note: better writers wanted, inquire within). The second single from the forthcoming album Goliath, titled "Standing In Line", will be released to the world on Friday via Wondering Sound. We are relatively certain that this is the highest altitude from which a music video has ever been announced, though Guinness has not yet officially confirmed.
The lyrics to the song will follow shortly after on this site, for your dissecting pleasure.
Word from those in the know is that a "shock and awe" campaign for the album is underway, with frequent announcements and releases to come. It certainly is a different world than it was 20 years ago when Squint came out!
Another Major Announcement Coming Wednesday
October 7th, 2014: Cast your eyes to the band's official Facebook for a tease about another major announcement to be, err, announced tomorrow at 9pm Eastern/8pm Central. Our prediction: Lifeboat II: The Revenge of Mrs. Aryan (rated R).
More Activity Than You Can Shake A Stick At
October 4th, 2014: The Perfect Foil have released their first music video off the forthcoming Goliath album for the song "Only A Ride". Go-go-gadget embedded video player!
These days the most active sources of new information are by far the band's official Facebook and official Twitter, and to a lesser degree, Steve Taylor's personal Twitter. The Splintern is working double time to make sure there's plenty of updates from tour stops, et al, on the official channels.
Speaking of tour stops, the band performed "Jim Morrison's Grave" live for the first time at the Whisky-A-Go-Go on October 1st, and YouTuber Chris Willman posted a YouTube video, embedded below. Chris also shared "In Layers" and "Single Ladies/Cash Cow".
Finally, the National Youth Workers Convention has posted a 12 minute interview with Steve to YouTube. Note: The concerts at the Youth Workers conventions that are on the schedule are for convention-goers only.
Pro-Shot Perfect Foil Concert Now In MP3 Format
September 28, 2014: Michael Tolosa's excellent professional video shoot of the complete Columbia, MD Perfect Foil show is now available in MP3 format for your listening pleasure. The conversion is courtesy of Kevin Lofgren, who mixed in audience sounds between the tracks to make it sound more natural.
Download the ZIP Archive (108MB)
If you haven't watched the concert and want to see it all, in order, from start to finish, Vimeo offers couch mode for the purpose.
New Archive Interview With Talk About Chagall Songs
An August 2005 interview with Steve is now in the press archive. Much of the interview is about the movie The Second Chance which was soon to be released at the time. However, there are some tidbits in there about a few of Chagall Guevara's songs, rare because the band never talked about the meanings of their lyrics. You can find those bits and pieces on the lyrics pages for "If It All Comes True", "I Need Somebody", and "The Rub of Love". Steve also talked about his solo songs "Drive, He Said", "Jung and the Restless", "The Lament", "Smug", and "What Is the Measure of Your Success?".
Steve Taylor Live Tweeting This Wednesday Night; New Band Social Media Outlets
September 22nd, 2014: It's not often this dinky little site gets a scoop, but I'm pretty sure this hasn't been announced elsewhere yet: Steve will be taking questions Wednesday night, 9pm EST/8pm CST, via the band's new Twitter handle @SteveTaylorTPF. On that night you can tweet your questions to Steve using the hashtag #AskMrTaylor. They even made nifty pictures to promote the event (see above), though I suspect they weren't intended for the public just yet...
(By the way, do us a favor and be sure to bug Steve incessantly about releasing the Chagall Guevara live album. But butter him up first by promising to make ten of your friends go out and buy Goliath.)
Speaking of the new Twitter, the band also has a new Facebook, YouTube channel and Instagram, and because having strong brand recognition is still crucial in the digital age, all of them are named SteveTaylorTPF, which means you don't have to remember all the band members' various handles anymore. There should be much more "official" information about the new album coming from these channels in the near future.
Goliath Track Order And Runtimes Revealed
September 17th, 2014: Information keeps trickling out about the new album, and today we can share with you the track order and runtimes:
Goliath First Single "Only A Ride" Released To Kickstarter Backers
September 16th, 2014: Steve has posted a backer-only Kickstarter update announcing the release of the first single off of the soon-to-be-released album Goliath. The song is "Only A Ride", and if you're not a backer and can't get to the album version above, then you can watch a live performance courtesy of Michael Tolosa's excellent live concert film.
In addition, updated album artwork showing a little more color and contrast was shared. The Goliath discography page is updated, and you can begin picking apart the lyrics to "Only A Ride" immediately.
Goliath Release Date Set, Singles And Videos Coming
September 2nd, 2014: Unless you are somehow even less punctual than this web site maintainer, then you already know about Steve's latest Kickstarter progress update announcing the completion of the new album Goliath, to be released on November 18th! The first single and video will be released Tuesday, September 16th, with more to come before the release date. Unfortunately the fall portion of the tour has been suspended, as the band will instead be concentrating on the album release for now, but it will be replaced a "more ambitious" tour later on.
Goliath Album Cover Art Revealed
August 8th, 2014: Steve has posted another Kickstarter progress update, in which he reveals the name of the previously unnamed song as well as the album cover art. In addition, this detail regarding its forthcoming release is also provided:
[A] date has been set for mastering within the coming weeks, and band sign-off on the final mixes is achingly close.
Few things bring this long-suffering website maintainer more excitement than updating the discography page for Goliath with every new bit of information.
West Hollywood, CA Date Added
July 19th, 2014: Peter Furler's tour page is currently the best place to watch for new dates, and another one has appeared: October 1st at the Whisky A Go Go in West Hollywood, CA. [Schedule of upcoming tour stops moved to a newer update, see above.]
Tenacious Googling Uncovers Unannounced Tour Dates
July 2nd, 2014: A few unannounced (and therefore possibly unconfirmed, so be sure before making plans to travel!) tour dates can be found with the help of your friendly neighborhood search engine. Those dates are [moved to the next newer update, see above].
Goliath Tentative Track Listing Revealed
July 1st, 2014: Steve has posted another Kickstarter progress update, and while there's still no release date for the album yet, we do at least get a tentative track listing. The entry for Goliath in the discography has likewise been updated.
Comedian
Double Negative
Goliath
Happy Go Lazy
In Layers
Moonshot
Only A Ride
Rubberneck
Standing In Line
A Life Preserved (Re-recorded)
As Yet Untitled
Complete Pro-Shot Concert Still Online, Still Amazing
June 30th, 2014: Since we're still waiting for the album and the second half of the Perfect Foil's tour, now seems like a great time to remind everyone about Michael Tolosa's professional shoot of the complete Columbia, MD show, which is available online.
If you want to watch the whole concert in order, Vimeo offers couch mode for the purpose.
Complete San Antonio Show On YouTube
June 21st, 2014: Stephanie Edmonson, mentioned a few weeks back in the "YouTubin' San Antonio" update, has uploaded the final two parts of the San Antonio show to YouTube (1, 2), so now the complete show is online! Here's the setlist with links to each song:
YouTubin' The San Antonio Show
June 7th, 2014: Stephanie Edmonson has uploaded four videos to YouTube (1, 2, 3, 4) that appear to be virtually the entire May 18th San Antonio, TX show, minus the encore.
In addition, Steve gave an eight minute talk about his family's experiences with Compassion International and adopting his daughter that I'm sure he would love for you to listen to even if you didn't buy a ticket to the show.
Squinterland Resurrected From The Web Boneyard
June 2nd, 2014: Squinterland.com, the first web site for Steve's record label Squint Entertainment from May 1998, has turned up in the Internet Archive's Wayback Machine, and is now archived here for all posterity. It is mostly complete, but some image rollover effects have been lost.
In a time when most people still had modems, this art-heavy page took a full three minutes to completely load. Sadly, the site did not presage a renaissance in horizontal scrolling as was hoped.
New "Most Bizarre Thing To Appear On YouTube" Award Winner
May 31st, 2014: From May 1985 comes the Steve Taylor lip-sync contest at Judson College in Elgin, IL, with finals at the Odeum in Chicago before the Sheila Walsh/Steve Taylor Transatlantic Tour concert. Congratulations to the winners Lisa and Paul, who are hopefully still getting mileage out of those VCRs.
YouTubin' The Tulsa, OK Show, And New Interview Transcripts
May 27th, 2014: A handful of videos have turned up from the Tulsa show. Ryan Creek shared The Lament, On The Fritz, and Cash Cow and Colour Code. Doc Smith shared his video of the band covering the Tulsa-born tunes MMMBop and Tulsa Time. Don Stephens also shot MMMBop and Tulsa Time, and also posted a photo gallery to his Facebook.
A few older tour updates that slipped through the cracks: An article about the Nashville secret show appeared on 33andathird.net. YouTube user mcmackme shared a short video of I Want To Be A Clone shot in Akron, OH. Bill Jacomet uploaded a Flickr photo gallery of the Dallas, TX show.
Finally, there are two new interview transcripts with audio available. The first is an interview on WJTL FM 90.3 in Lancaster, PA from April 24th, just before the start of the tour, in which Steve indicates that a music video has already been shot for a single from the forthcoming new album.
The second is a rarity: an interview solely about the Chagall Guevara years with Mike Rimmer on a radio show out of England called UCB Music Academy. In this interview Steve discusses Dave Perkins' dream that spawned the band's name, coming up in Nashville, and getting signed to MCA, among other topics.
YouTubin' The Dallas, TX Show
May 19th, 2014: Dallas must have been a happenin' stop, because plenty of videos have turned up from the night. First, Michael Edmonds uploaded Single Ladies and Cash Cow. Next, Robert Miguel uploaded Goliath, On The Fritz, and Single Ladies and Cash Cow.
YouTube user Whovianize, who wants you to know that she was tipsy from two vodka cranberries, shared Rubberneck, The Lament, Easy Listening, In Layers, On The Fritz, and Single Ladies. Rick Starr provided I Want To Be A Clone, Am I In Sync?, and Meltdown.
Finally, YouTube user Elmexix uploaded nice high-definition videos of I Want To Be A Clone and The Lament, Moonshot and The Moshing Floor, On The Fritz, The Finish Line, and Single Ladies, Cash Cow, and Colour Code.
And just for fun, here are all four of the above videos of Single Ladies synchronized and playing simultaneously.
Live Simulcast Tonight? And Steve's Triumphant Return To Australia
May 16th, 2014: Following up on the news posted here a few days ago, a tweet and Facebook post by Steve suggests that the live Internet simulcast of tonight's show in Dallas might be a go:
Tonight! Dallas @TheDoorClubs! ST&ThePerfectFoil+@PeterFurler Band. Are we doing a live recording? Maybe...
Update: Curses, foiled (pun) again. Airchecks, but no simulcast. But now we can hopefully expect a live album soon...
In the "it's never too early to commit" department, Steve has officially been confirmed for the next Easterfest in April 2015. Easterfest is held in Toowoomba QLD, Australia, so this would be, as far as we know, Steve's first trip back on official business since the I Predict 1990 tour, which saw most Australian stops canceled over controversy surrounding "I Blew Up the Clinic Real Good".
Meek Sneak Peek (Leak?) Of Studio Version Of "Only A Ride" Found In The Wild
May 14th, 2014: Is it a leak? Is it a mistake? Are these Jeff and Mike guys just good friends with Steve and the band? How else can you explain the bumper music found hiding quietly in plain sight at the 55 minute and 5 second mark of the May 4th edition of the Jeff & Mike Show podcast?
Update: We have been trolled! It was ripped from the "Dylan" Kickstarter video, which some faithful web site administrator had somehow managed not to see until, oh, about twenty minutes ago. Credit to Norvin Coblentz for the eagle-eye, err, ear. For your listening pleasure, here is that audio track (right click, save as, thank you).
Interview Tonight With Steve Taylor And Peter Furler
May 13th, 2014: Long-time Sock Heaven friend and Robert Miguel has written in to say that he will be interviewing Steve Taylor and Peter Furler tonight on his Live365 radio station Deep Ellum Radio. Listeners will also have a chance to win tickets to this Friday's Steve Taylor & The Perfect Foil show in Dallas, TX. He didn't mention it in his email, but there is a note on his web site indicating that he will also be broadcasting live from the show!
Update: A transcript and MP3 of the interview with Steve Taylor are now available, with thanks again to Robert Miguel.
Also, a small site update today: Only two years after its release, "A Life Preserved" and its remix have been added to Steve Taylor's discography. Better late than never!
May 10th, 2014: A number of photo galleries and reviews have turned up from the first portion of the tour. Nashville, TN, Apr. 25th: Matt Scott and Joshua Smelser. Charlotte, NC, Apr. 27th: Danny Greene. Vienna, VA, Apr. 28th: Rob Riddle, who also provides a couple of bonus shots from Columbia, MD that are my favorites. Columbus, OH, May 1st: John McCollum. Blakely, PA, May 2nd: A. Elizabeth Baumeister.
Finally, for the Manheim, PA show, local radio station WJTL FM 90.3 provides two galleries, one from a pre-show event, and another from the show itself, and the venue The Junction Center also has a selection of photos in their May 2014 gallery. There are also two show reviews, one from Lancaster Online and another from the web site Jesus Freak Hideout, who also provide two YouTube videos, one for On The Fritz and the other for The Finish Line.
(And I can't stress how completely cool Michael Tolosa's complete show, first mentioned yesterday, really is. Go watch it if you haven't yet. And if you have watched it, go watch it again. And if you've watched it multiple times, please contact Michael and gently encourage him to release the whole thing in full 1080p HD.)
Complete, Professionally-Shot Columbia, MD Show Now Online
May 8th, 2014: A real treat has turned up courtesy of Michael Tolosa. He professionally filmed the Columbia, MD show, using multiple high-definition cameras, and is sharing the entire concert with the world! If you're in the Washington, DC area and need a great videographer, check out his web site at www.michaeltolosa.com and give him a shout.
If you want to watch the whole concert in order, Vimeo offers couch mode for the purpose.
YouTubin' The Columbus, OH (Again), Columbia, MD, and Manheim, PA Shows
May 7th, 2014: YouTube user BubbaTheViking, mentioned in the last update, has uploaded the rest of his May 1st, Columbus, OH concert footage: Only A Ride, Rubberneck, I Want To Be A Clone, The Lament, Moonshot, The Moshing Floor, Standing In Line, Am I In Sync?, My City Was Gone, Goliath, Easy Listening, On The Fritz, and The Finish Line.
For the May 3rd, Columbia, MD show, YouTube user UnTiedMusicStudio has uploaded a 24-minute compilation of excerpts from both Peter Furler's and Steve Taylor's sets. Note that at 11:55 in the video you can see the show's setlist.
Finally, for the May 4th, Manheim, PA show, user batmanzfa has provided Meltdown (the first performance of this song on this tour that we've heard of), and David Dein has uploaded The Lament, The Moshing Floor, and Meltdown.
YouTubin' The Columbus, OH And Blakely, PA Shows
May 4th, 2014: A flood of videos from the Columbus, OH show have turned up. First, YouTube user BubbaTheViking provides videos of Single Ladies, Cash Cow, Colour Code, and Hero. Next, Mark Strum provides a 16-minute compilation of excerpts from both Peter Furler's and Steve Taylor's sets. Third, user RainyDayAssembly provides Only A Ride and Rubberneck, Am I In Sync?, My City Was Gone, On The Fritz and The Finish Line, and Single Ladies. Finally, Evon Zundel provides Goliath from the Blakely, PA show.
YouTubin' the Akron, OH Show
May 1st, 2014: The April 30th Akron, OH show is in the books, and along with reports that the band performed soundcheck festooned in DEVO energy domes (evidence: Steve's Twitter and Peter Furler's Instagram), a few videos have turned up. YouTube user Doug Ausbury has provided videos of their cover of The Pretenders' My City Was Gone, plus On The Fritz and Single Ladies. Also on YouTube are I Want To Be A Clone uploaded by snyderly, and The Moshing Floor uploaded by Brian Kettell.
YouTubin' The Vienna, VA Show
April 29th, 2014: A few videos of the April 28th Steve Taylor & The Perfect Foil concert at Jammin' Java in Vienna, VA have appeared on YouTube courtesy of the user named obxer. Click through for Rubberneck, I Want To Be A Clone, and Moonshot.
Post Secret-Show Update & More YouTubin'
April 28th, 2014: Steve Taylor has posted an update to the Kickstarter page with a rundown of the Friday night secret show and other events, and more videos have popped up on YouTube. Here's the setlist with links to all the videos that have turned up so far, including videos posted in earlier updates. Thanks to YouTube users FunMom, jamutton, Kristi Roth, and Robert Berman. Contact me if you find more videos I haven't already linked!
Only A Ride
Rubberneck
I Want To Be A Clone
FunMom
The Lament Of Desmond R.G. Underwood-Fredrick IV
Kristi Roth
Moonshot
The Moshing Floor
FunMom
Standing In Line
Am I In Sync?
Robert Berman, FunMom
Goliath
FunMom
Easy Listening
Robert Berman
In Layers
On The Fritz
Kristi Roth
The Finish Line
Robert Berman
Single Ladies (Put A Ring On It) (Beyoncé cover)
Robert Berman, jamutton, FunMom
Cash Cow (A Rock Opera In Three Small Acts)
FunMom
We Don't Need No Colour Code
Gloria (Van Morrison cover) (with Dave Perkins)
FunMom
Hero
FunMom
Official ST&TPF Tour Web Site With Confirmed Dates
April 27th, 2014: There is a (small) official web site for the Steve Taylor & The Perfect Foil tour up now at SteveTaylorPresents.com. Here are the updated confirmed shows:
April 27th
Charlotte, NC
April 28th
Vienna, VA
April 30th
Akron, OH
May 1st
Columbus, OH
May 2nd
Blakely, PA
May 3rd
Columbia, MD
May 4th
Manheim, PA
May 16th
Dallas, TX
May 17th
Odessa, TX
May 18th
San Antonio, TX
May 19th
Tulsa, OK
July 5th
Urbana, IL
(AudioFeed Festival)
August 9th
Gilford, NH
(SoulFest)
ST&TPF Secret Show For Kickstarter Backers
April 27th, 2014: Friday night was the not-so-secret Steve Taylor & The Perfect Foil Secret Show for Kickstarter backers, and a concert setlist has appeared on setlist.fm courtesy of user "andypropeller". Videos of several of the performances are available on YouTube courtesy of Robert Berman and are linked below.
Only A Ride
Rubberneck
I Want To Be A Clone
The Lament Of Desmond R.G. Underwood-Fredrick IV
Moonshot
The Moshing Floor
Standing In Line
Am I In Sync? (YouTube)
Goliath
Easy Listening (YouTube)
In Layers
On The Fritz
The Finish Line (YouTube)
Single Ladies (Put A Ring On It) (Beyoncé cover) (YouTube and below)
Cash Cow (A Rock Opera In Three Small Acts)
We Don't Need No Colour Code
Gloria (Van Morrison cover) (with Dave Perkins)
Hero
Tentative List Of ST&TPF Tour Dates
March 3rd, 2014: The Steve Taylor & The Perfect Foil Kickstarter campaign has not only funded the new album, but a small tour to boot, and the first tentative schedule for that tour has been posted on Kickstarter and Facebook and Bandsintown and probably a bunch of other social media contraptions with high valuations built on questionable revenue models.